We are passionate about transforming your trip into an unforgettable adventure, where your only concern will be skiing, while we take care of everything else. Whether you are a beginner, looking to perfect your technique or an expert skier, let us show you the way to an unforgettable trip.
With our dedicated guides, experienced instructors and personalized services, we guarantee that every moment will be unique. For all these reasons, today we present you 8 exclusive and surprising ski experiences.
Choose your NUBA experience!
United States: Cat Ski in Colorado
Get ready for an exciting adventure in the mountains of Colorado, USA. Whether you are an experienced skier looking for new challenges or just a passionate snowboarder, Cat Skiing is the ideal choice for exploring remote and wild peaks.
You will be immersed in an environment where unspoiled nature and a thrilling adrenaline rush combine in a whirlwind of snow. Aboard a specialized vehicle, known as a snowcat, you will access off-piste and off-the-beaten-path terrain.
With the guidance of local experts, you will enjoy unforgettable descents surrounded by the breathtaking beauty of the Colorado mountains.
Canada: Transcanadian with friends
Embark on an epic journey through Canada's majestic British Columbia, with friends and a passion for skiing as fuel.
This 10-day trip will take you on a spectacular ski road trip, exploring iconic resorts such as Sunshine Village, Lake Louise, Kicking Horse and Revelstoke.
With expert guides who know every corner of this unique region, you'll discover its best-kept secrets and experience a unique combination of breathtaking scenery and the thrill of skiing at some of Canada's best snow destinations.
Antarctica: Heli-skiing in the polar desert
For true adventurers and ski lovers, Antarctica is the ultimate challenge.
Explore a polar wilderness covered by ice sheets and surrounded by majestic mountains in an epic heli-skiing adventure.
With a helicopter as a means of transportation to the unexplored peaks, each descent will be a unique adventure in this unique and remote scenery, where the wild nature and the purity of the snow will give you an unforgettable experience.
Iceland: Waterfront skiing and northern lights
Live a unique experience in Iceland, where oceanfront skiing is combined with the magical spectacle of the Northern Lights.
Climb aboard a helicopter surrounded by snow and descend from breathtaking peaks to the seashore, enjoying world-class racing over endless and varied terrain.
In addition, you will have the opportunity to marvel at the northern lights illuminating the sky, creating a dreamlike setting to top off a perfect day in the snow.
Norwegian Arctic: Winter Paradise
Embark on an epic winter experience in the Lofoten Islands and Tromso-Lyngen Alps. Immerse yourself in an environment that looks like something out of a fairy tale, where majestic mountains rise above the deep fjords and islands that emerge from the Norwegian Sea.
The snowy slopes become the perfect canvas for gliding on your skis, offering challenging slopes and untouched snow for an unparalleled skiing experience.
Delve into unique communities, connect with the local culture and feel the essence of winter at its best.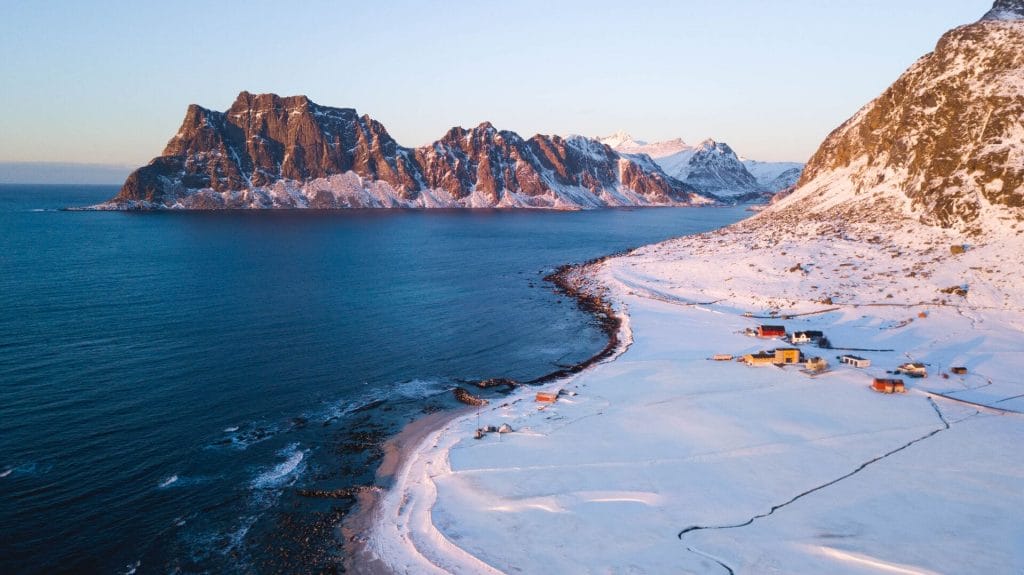 Italy, Dolomites: Remote Ski Safari
Feel the thrill of exploring the breathtaking Dolomites, where the views of the shimmering valley below you will take your breath away. This remote ski safari will take you through more than 1100 km of slopes between San Cassiano and Alta Badia.
The famous Armentarola piste will be your guide through extensive snowfields, allowing you to ski down virgin slopes in a breathtaking and picturesque setting.
Step into this alpine paradise and discover the natural beauty while skiing some of the best slopes in the world.
Austrian Alps: Exploring the secrets of the Alps with the family
Discover the wonder of the Austrian Alps on a family trip that will take you to explore the amazing regions of Vorarlberg, Tyrol and Salzburg.
These spectacular mountains offer not only challenging ski slopes, but also picturesque valleys and crystal clear waters.
This destination is a paradise for ski lovers looking for an authentic experience in the snow. Venture out as a family and create lasting memories as you discover the secrets of the Alps in the company of your loved ones.
Japan: The magic of Niseko
Immerse yourself in the magic of Niseko, a unique destination in Japan where you can enjoy skiing both day and night in exceptional conditions. With an annual snowfall exceeding 18 meters, this place is a paradise for lovers of virgin snow.
Explore the endless slopes and enjoy the unparalleled snow quality while immersing yourself in Japanese culture. The perfect blend of tradition and modernity will captivate you, making your experience at Niseko something truly special.
NUBA exclusive accommodations
From the best hotels at the foot of the slopes, to exclusive private villas with all the services imaginable. For the more adventurous, remote lodges, where the helicopter will take you to the summits where you can enjoy exciting days of heli-skiing or ski touring.
Our department of experts
At NUBA, we have created a department specialized in ski trips made up of passionate experts, to offer our already experienced clients an even more enriching experience.
Exclusive and surprising ski experiences
At NUBA, we believe that skiing is not just a sport; it is a passion that arouses emotions, challenges limits and creates indelible memories. That's why we are dedicated to providing you with experiences that transcend conventional expectations.
We strive to offer not only snow adventures, but an opportunity to discover amazing destinations and connect with nature in its purest state. Through our meticulously designed ski trips, we invite you to explore the most exciting corners of the world, where the snow is the canvas and you are the artist.
Contact our ski trip experts and let yourself be carried away by the magic of the mountain.