In every corner of this magical land, ancient history intertwines with the vitality of contemporary culture, while lush natural beauty invites us to explore its deepest secrets on a trip to Yucatán.
From the majestic Mayan pyramids towering on the horizon, to dreamy beaches nestled in a natural and unspoiled environment, Yucatan is a melting pot of experiences that always has something more to offer; a place where past and present merge in a symphony of colors, flavors and sounds.
Welcome to a destination that awakens the senses and enriches the soul: Yucatan, Mexico.
NUBA Experiences
In this magical corner of our planet, ancient history merges with the vitality of contemporary culture, while the lush natural beauty invites us to explore its deepest secrets. Let's go on an exceptional journey into the heart of Yucatan, where NUBA experiences awaken the senses and enrich the soul.
Xibalbá, adventure in the Mayan underworld
Accompanied by a renowned underwater archaeologist and explorer, we will dive into the crystalline waters of the sacred cenotes, authentic portals to the past. These fascinating places, highly significant for the ancient Maya, were considered entrances to Xibalba, the underworld.
Diving among impressive geological formations, we will feel time fade away as we are transported back to a time when these cenotes were revered as places of spiritual connection.
The Xibalba dive is much more than an underwater adventure; it is a journey through time that will allow us to contemplate the greatness of the ancient Mayan civilization from a unique perspective.
The world of melipona bees
Discover the history and behavior of melipona bees in a private offering ceremony to Ah Muzenkab, the Mayan god of the bee.
In this little-known experience, we will not only observe the region's native bees in action, but we will learn all about the importance of these creatures to Mayan survival and spirituality.
In addition, we will learn how to make handmade products such as soaps, sweets and candles using honey, thus connecting with nature and ancestral tradition in a unique and enriching way.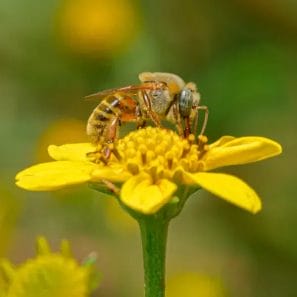 Explore Yucatán's past at a private hacienda
To truly understand Yucatán, we must know its colonial roots and its rich and complex history.
Through an exclusive visit to an authentic hacienda of the region, we will delve into the legacy of the Yucatan, exploring the colonial architecture, walking through cobblestone courtyards and visiting the elegant rooms that bear witness to its history.
It is a journey into the past that will allow us to better understand the influence of the colonial era on the culture and identity of Yucatán, while we immerse ourselves in the beauty and charm of these impressive historic sites.
Yucatan is much more than a tourist destination; it is a journey through time where the past comes alive in unforgettable experiences. From underwater wonders to millenary traditions and colonial traces, this corner of Mexico will take us on a magical journey we will never forget.
If you want to travel privately to Yucatan start designing your tailor-made trip with NUBA.