Mexico dazzles travelers with its delicious cuisine, the warmth of its people and its varied landscape. Like a door that opens to the Sea of Cortez, we find a paradise where dreams come to life and the magic of the marine environment inspires every adventure: La Paz.
Capital of Baja California Sur, La Paz stands as the main banner of the province with which it shares its name and, located just 2 hours from Los Cabos, has a wonderful natural environment.
Majestic mountains, deserts and some of the most beautiful and spectacular beaches in the country are joined by a collection of breathtaking sunsets. La Paz is known by the nickname of the 365 sunsets, making it a must-see destination to discover.
NUBA Experiences
In every corner of this cosmopolitan city, there are secrets to be discovered and genuine smiles that reflect the authenticity of its inhabitants. Enter its crystalline waters, feel the breeze caressing your skin and get ready for a unique and unforgettable experience.
Embracing marine life
Embark on an exciting voyage to the island of Espiritu Santo aboard a yacht.
private. We will sail through turquoise waters and contemplate majestic cliffs that rise before our eyes… And the most special part will come when we dive into the depths and share a unique moment when we swim with sea lions!
The connection with these fascinating beings will leave an indelible mark on our souls, a memory to treasure for life.
Whale shark encounter in La Paz
In this amazing adventure, we will come face to face with the whale shark, known as the whale shark.
as the biggest fish in the world.
As we immerse ourselves in the warm waters of the Sea of Cortez, we will witness the majesty of
this sea creature as we swim alongside it. Undoubtedly, it is an overwhelming experience that will allow us to appreciate the beauty and importance of preserving marine life.
Sand dune surfing
And if you're looking for a dose of adrenaline, speeding down the golden dunes that rise majestically next to the sea is the perfect experience.
Thus, we will feel the emotion of flying over the sand while the wind caresses our skin, in a dance of euphoria and freedom that will connect us with the desert and marine environment that surrounds us.
Ready to experience a sense of wholeness and connection with nature like never before?
An encounter between gastronomy and contemporary art
This unique experience fuses the creative world of contemporary art with the delicious gastronomy of La Paz. Our senses will be captivated by the culinary innovation and avant-garde artistic expressions that come to life in the city. We also delight ourselves with exquisite dishes and immerse ourselves in the fascinating world of current artistic expression.
A combination that will awaken emotions and stimulate our imagination.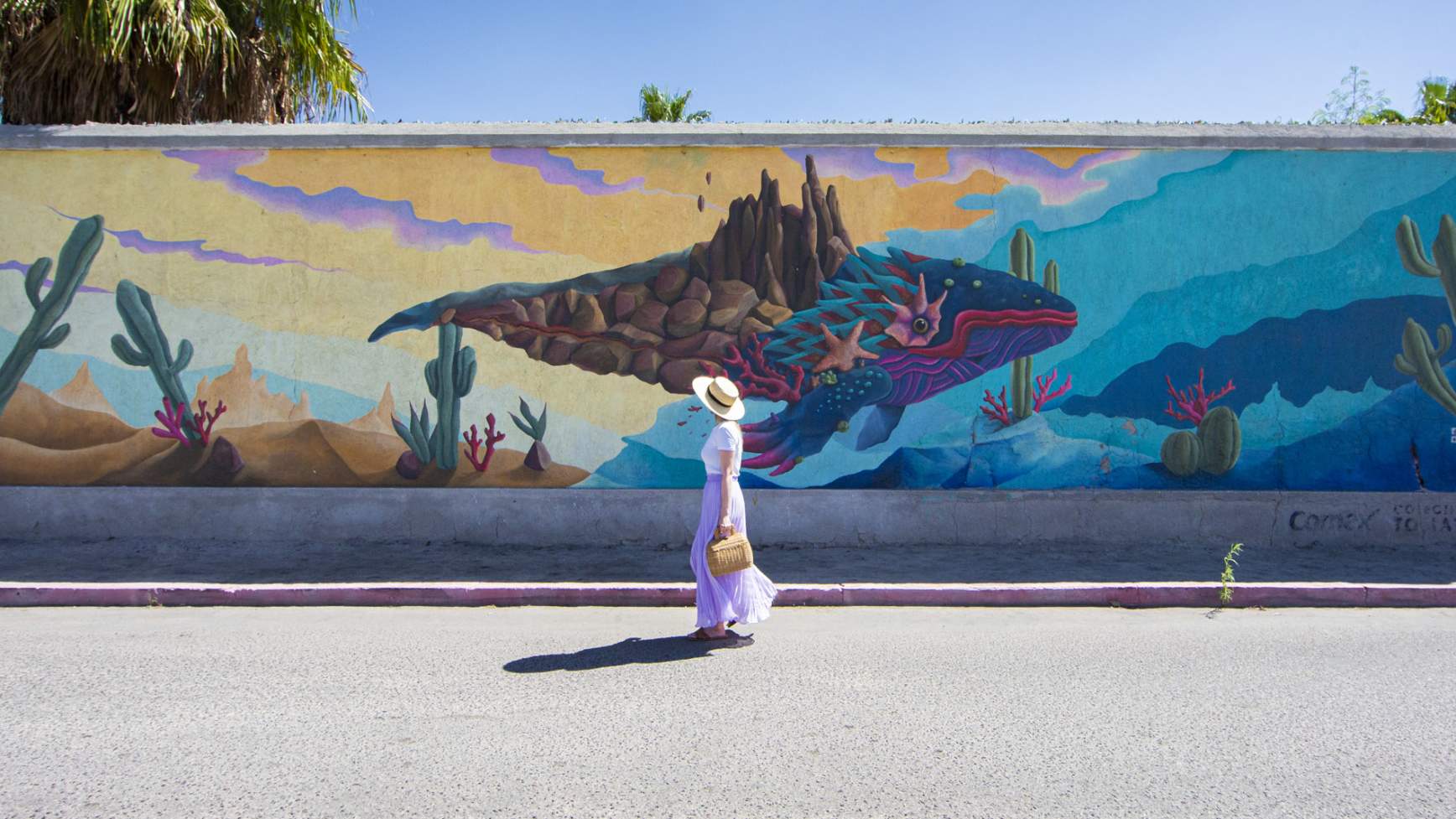 In short, La Paz is the ideal destination for travelers looking for good weather, pristine beaches, gastronomy and incredible biodiversity. Along with its unforgettable sunsets, we will also find an endless number of activities such as horseback riding, hiking through oasis, etc.
and cannons and much more. All this surrounded by the greatest exclusivity!
If you want to travel privately to La Paz start designing your tailor-made trip with NUBA.