In the digital age in which we live, work-life balance has become increasingly challenging. We often find ourselves immersed in the daily routine, dreaming of escaping to idyllic places that allow us, at the same time, to stay connected to our responsibilities. Fortunately, a solution already exists… Workation!

The combination of words – "work" and "vacation" – refers to a new way of traveling, offering the opportunity to work from anywhere, while enjoying a completely different environment. In this way, we can choose destinations that inspire and motivate us, dedicating time to our tasks while exploring new places together with our loved ones.

Can you imagine working from a paradisiacal beach or from a charming villa in the middle of the jungle while enjoying the sun and nature? This is precisely what workation offers you!
The perfect fusion between work and vacation
BALI, INDONESIA
Bali, the lush Indonesian island, has become a favorite destination for those who wish to enjoy workation in a truly idyllic setting, offering the opportunity to combine work productivity with the beauty and serenity of a tropical paradise. Get ready to live an unforgettable experience while carrying out your professional tasks with the magic of Bali as a backdrop!
NUBA Recognition
Immerse ourselves in the fun beach culture of Canggu, in an incomparable luxury experience, where from the privacy and exclusivity of our villa, we can enjoy private dinners, yoga classes or simply giving ourselves a relaxing massage at COMO Uma Canggu.
SANTA TERESA, COSTA RICA
Santa Teresa, located on the spectacular coast of Costa Rica, is a booming destination for those looking to combine work and paradisiacal surroundings. With its white sand beaches, perfect surfing waves and vibrant community of remote workers, Santa Teresa offers a unique workation experience. From exploring the rainforest and its incredible waterfalls, to relaxing on pristine beaches or enjoying private yoga and meditation classes, every moment outside of work hours will be an opportunity to recharge your batteries and connect with nature.
NUBA Recommendation
Donde la selva se junta con el mar, encontramos esta propiedad exclusiva y sostenible de 1500m2, que incluye una lujosa residencia y tres villas, todas de concepto abierto y enmarcadas en mitad de la jungla, para disfrutar de la privacidad más absoluta en Pasha.
MELIDES, PORTUGAL
Melides, a charming village in the Alentejo region of Portugal, is a perfect destination for those who long for a quiet environment close to nature. With its combination of beautiful golden beaches with crystal clear waters, rural landscapes and a relaxed atmosphere, the location offers an idyllic space to work and disconnect from the hustle and bustle of urban life. Outdoor activities such as hiking or cycling in its natural landscapes – such as the Estuário do Sado Nature Reserve – and a simple and authentic gastronomy, complete the wonders of this fantastic retreat.
NUBA Recommendation
A cozy place, a home away from home where you can disconnect from everyday life and immerse yourself in the quiet and long evenings of the Alentejo, while discovering vineyards, forests and a spectacular beach overlooking the Atlantic. Pa.te.os offers the ideal environment to enjoy a more peaceful, authentic and contemplative life.
VALLDAL, NORWAY
Valldal, located in the stunning Norwegian landscape, is the ideal destination for those seeking a workation surrounded by natural beauty and serenity. With its majestic mountains, lush forests and the Valldøla river canyon, this place offers an inspiring environment to work and enjoy the peace of nature, combined with incomparable scenic hikes, unparalleled rural charm, outdoor activities and delicious cuisine. Ready for an unforgettable experience?
NUBA Recommendation
The perfect place to write, compose or simply recharge your batteries while escaping the hustle and bustle of the city. Juvet is an unparalleled retreat that perfectly combines minimalist luxury with untamed nature.
ZANZIBAR, TANZANIA
Zanzibar, the idyllic island off the coast of Tanzania, is the perfect destination for those who wish to carry out their work immersed in the exotic beauty of a tropical environment. White sandy beaches and a rich local culture offer the opportunity to enjoy diving, snorkeling and sailing activities in the crystal clear waters of the Indian Ocean, or to discover UNESCO World Heritage Sites such as the old town of Stone Townwith its colonial architecture, labyrinthine streets and vibrant markets. A real workation experience awaits us!
NUBA Recommendation
An island of pure beauty and unexpected dimensionality that is home to the most exclusive villas on the coast of Tanzania; surrounded by pristine white sand beaches and African nature, in Xanadu we will experience life at polepole rhythm.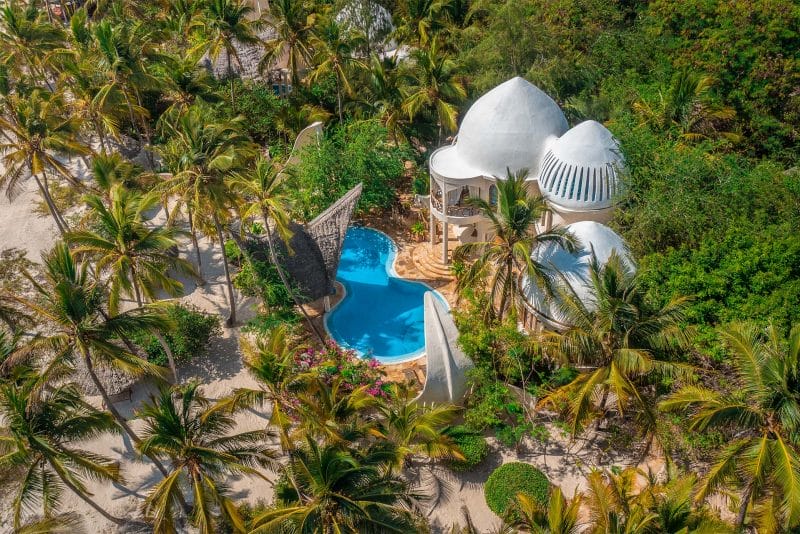 If you want to travel priv ately to these exclusive destinations, start designing your tailor-made trip with NUBA.