Aboard the new B787 "Tahitian Dreamliner" of Air Tahiti Nui, we landed in French Polynesia. The introduction of this new aircraft marks the renewal of the Poerava Business and Moana Economy classes, in addition to the creation of the new Moana Premium Economy where, through the largest windows ever integrated in a passenger aircraft, we can enjoy the arrival to this dream destination that rises in the heart of the Pacific Ocean, between volcanoes and coral reefs, deep forests and sky-blue seas. Fine sand that slips through our fingers, transparent waters brimming with life at our fingertips, the scent of Tiare that invades our senses… Welcome to paradise on earth!
Papeno'o Valley
When we think of Tahiti, the first thing that comes to mind are miles of white sandy beaches surrounded by immense lagoons of turquoise waters. However, we discovered that this island has much more scenery to offer. If we go into the heart of the island we will find the spectacular Papeno'o Valley, with lush tropical forests, where the landscape changes radically. A scenery that will awaken our most adventurous side and, if we go up the Papeno'o River in a 4×4, we will reach the thousand waterfalls hidden among the trees, a brilliant and sparkling image that not everyone has the courage and luck to see.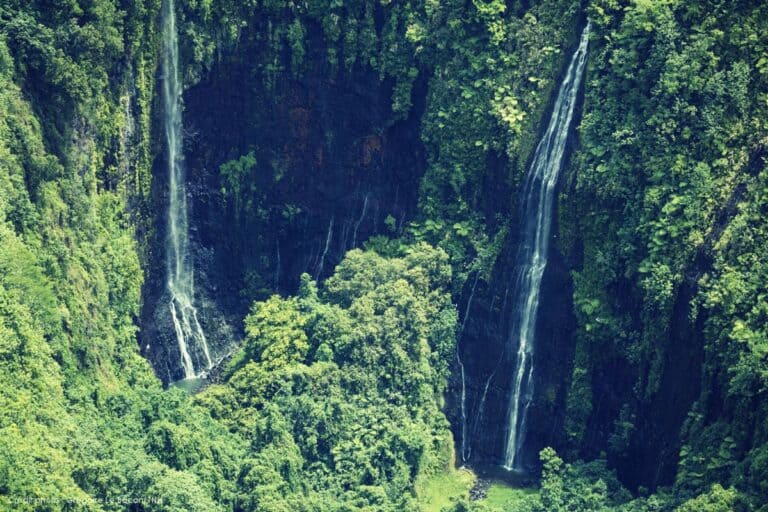 Diving in Rangiroa
Located in the Tuamotu archipelago, bounded by 418 islands, we find the atoll of Rangiroa; a reflection of the sky in the sea, and Rangiroa means "immense sky" in Paumotu. It is the second largest coral reef in the world, which emerges as a masterpiece of nature from the sea and houses an immense lagoon of 79 km2. Two seas delimit and delimit it, the Moana-tea (gentle ocean) that represents the immense lagoon and the Moana-uri (wild ocean) that refers to the waters of the sea that harbor all kinds of marine fauna such as sharks, whales, manta rays or dolphins, and that will delight any intrepid diver. No need to be an expert, this diving paradise will offer a spectacle of life to any spectator who decides to dive in its crystalline waters.
Learning to do aerobatics in an airplane
We fly over paradise, to feel like a bird admiring a scenery that few people dare to see at more than 2500 feet high, that feeling of adrenaline that makes us wake up and feel alive… An experience that will allow us to fly through the sky doing all kinds of acrobatics such as spinning, turns, turns and negative accelerations, while enjoying incredible views of the volcanoes of Tahiti and Moorea and its endless coasts. Strong emotions for the bravest, for all of us who are not satisfied and want to explore the world from new horizons.