Traveling to Lapland as a family is a magical and unforgettable experience, especially if we do it during the December long weekend, since winter activities are in full swing and we can enjoy both young and old as we have never done before.

Lapland is a region in Northern Europe, known for its stunning snowy landscapes, northern lights, and for being the home of Santa Claus. With its wild nature and unique culture, it is the perfect place for those seeking an exclusive travel experience.

A destination to explore by snowmobile, husky sledding, snowshoeing, skiing… Or just relaxing in front of the fireplace or in the sauna.
Day 1. We arrived at our destination
After the first day of the trip, in which we will arrive at our cabin – where the thermal equipment we will use during our stay will be already prepared – our adventure will begin…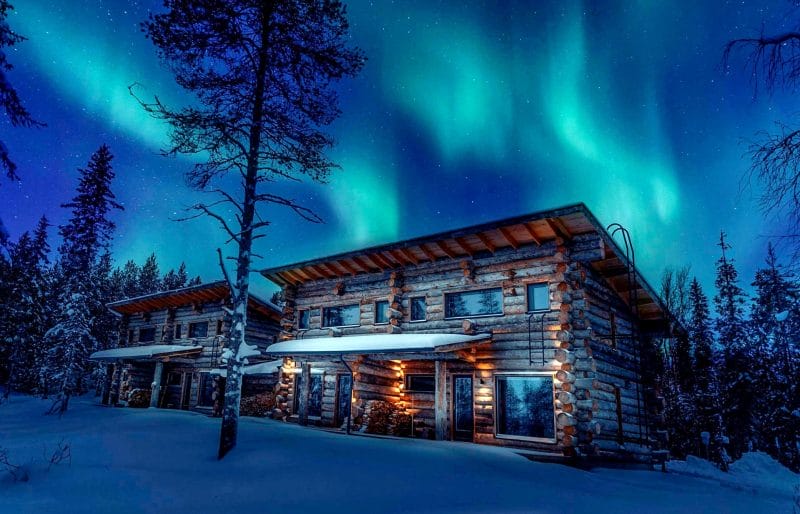 Day 2. Ice fishing with snowmobiles, karting and minibikes
We will get ready to enjoy the most amazing excursion of our trip. After a lesson with expert guides, who will explain how to drive the snowmobiles, the adults will share the bikes, in pairs, while the younger ones will get on a sled that will be driven by our guide. The route will take us through virgin snow to the shore of a frozen lake, where the next stage of our adventure will begin.
Crossing beautiful landscapes we will reach one of the best places for ice fishing in Ruka, the Veskajarvi lake. Here, we will meet a real Finnish fisherman in the laavu, a shelter they have to take refuge on the shore. First we will receive instructions to learn how to use the small fishing rods and baits, as well as the kaira, which is the drill to make holes in the ice. Then it will be our turn to find the best spot and try our luck on the ice. Will we be able to catch any perch or pike?
To end the day, we will move to the karting circuit, where we will enjoy a completely new experience: driving special karts designed to glide over snow or ice. Driving these vehicles is really easy, being an activity that can be performed by all people -adults or children- with a minimum height of 150 cm (necessary to reach the accelerator and brake pedals). Children who cannot drive the karts will be able to drive a mini-snowmobile, an experience they will certainly have a great time.
Day 3. Exclusive visit to Santa Claus
Today is the day the little ones have been waiting for!
Near Ruka, there is a place that exudes magic, a charming village with houses and cabins in vivid colors, from which you can enjoy magnificent views of the winter landscape. Children will be able to explore this secret place and have fun playing in its slide area, until it's time to meet Santa Claus in person!
We will have the wonderful opportunity to visit the house and workshop of Santa Claus and Mrs. Noel, with whom we will prepare delicious cookies while they tell us about the real life in Lapland. We will spend a very special time with Santa Claus, where we will be able to chat with him and take pictures together, moments that will always remain in our memories… In addition, all children will receive a surprise gift!
Day 4. Arctic animals: husky and reindeer safari
We will start another adventurous day with a visit to a husky farm. Upon arrival at the camp, we will be greeted by the enthusiastic barking of the dogs. Surrounded by nature, we will be briefed on driving and safety before starting the sled ride. The team carries two people, a musher and a passenger, who may rotate throughout the tour. After the excitement and speed of the start, we will soon begin to relax and enjoy the surroundings. Once back at the camp, we can enjoy a comforting hot drink in a kota, before our next destination…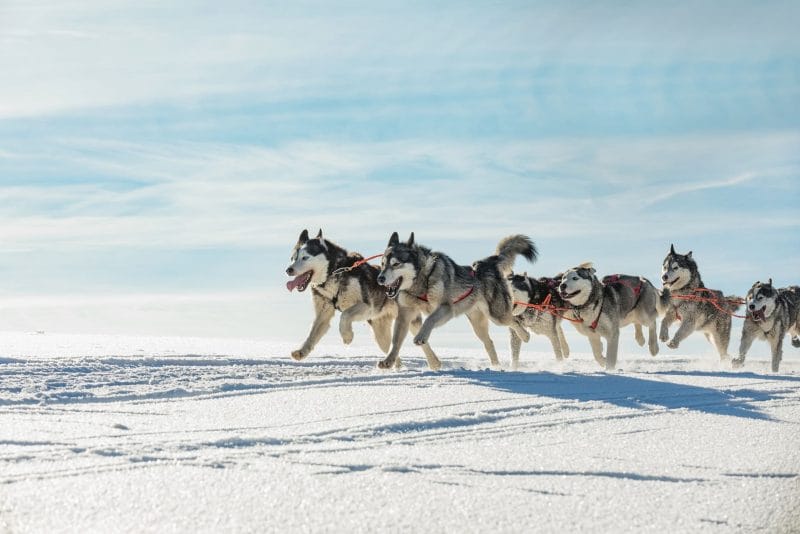 Traveling through beautiful forests and over ice-covered lakes we will arrive at a traditional reindeer farm, where we will have the opportunity to enjoy a peaceful sleigh ride with our new friends, while the herders share with us the unknown stories of their way of life.
Afterwards, we will have some free time inside the complex, where we will find a beautiful illuminated toboggan run and floats that will delight the little ones; in the frozen lake, we will also be able to experience a Finnish carouselin which one person sits while another spins him or her around, or use the kick-sledgesa traditional sled to glide over the ice. We will end with a dinner to savor the Scandinavian gastronomy, while we share everything we have experienced this day.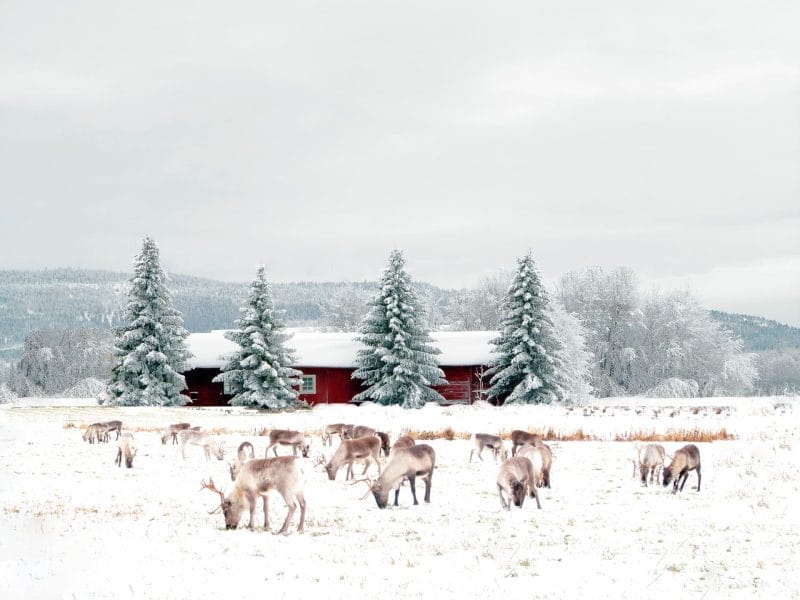 Day 5. Return home
To end our experience before returning home, we could not leave Lapland without enjoying a relaxing sauna. A tradition in Finland! And although they did not invent it, it is the country with the highest number of saunas per inhabitant; almost one sauna for every 2 inhabitants and those who practice it more assiduously.
We will then say goodbye to all our new friends and head for Madrid. But don't worry… We'll meet again in the next adventure!
Your trip to Lapland is waiting for you.
Contact a NUBA Everywhere expert!