Los Cabos is one of the most diverse places in the world. It is located in Baja California Sur, Mexico, in a desert ecosystem surrounded by the Pacific Ocean and the Sea of Cortez. We traveled there for 7 days, and this is what we found: the highest concentration of exclusive accommodations in the world, internationally renowned organic cuisine, natural wonders, and a wide selection of adrenaline-pumping experiences.
Local and organic gastronomy
Here the dishes are filled with fresh seafood, organic gastronomy and, of course, traditional Mexican cuisine. A booming culinary offer that has attracted the attention of renowned international chefs such as Richard Sandoval and Enrique Olvera.
We had the opportunity to meet her first hand at Casa Tamarindos. Following their "From Farm to Table" philosophy, we gathered ingredients from their garden and then cooked them in a private Mexican cooking class. An unforgettable moment. Beyond a simple culinary experience.

Another gastronomic highlight of the trip was dinner at El Farallón Restaurant (Pedregal Resort). To open our mouths, we were served a tasting of three types of champagne marinated with different varieties of seafood and mole.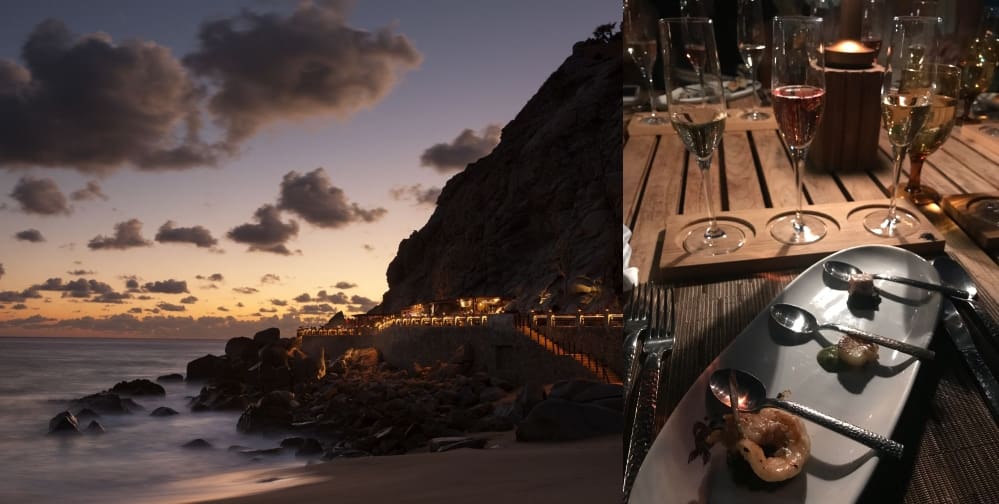 Not only are many of the local restaurants in high demand for fresh seasonal produce, but luxury accommodations consider the harvest to be one of the area's best attractions. The variety of food produced in the region includes all kinds of fruits, vegetables, cheese, seafood and even its famous brandies.
The Aquarium of the World
The Sea of Cortez was considered "The Aquarium of the World" by Jacques Cousteau and is known to be the ideal place for snorkeling and scuba diving. We wanted to discover it on a full-day excursion by private yacht to the uninhabited island of Espiritu Santo, a UNESCO World Heritage Site.
The gift of nature appeared as we passed by: islets inhabited by sea lions with which you can dive (if it is not the mating season because they can be aggressive), sea caves mystery, damselfish, and butterfly fishand, most impressively, a huge dolphin school who played and accompanied us for most of the trip.
Whale watching experiences are also famous. From November to March, hundreds of humpback, gray and blue whales migrate from the Arctic to the waters of the Pacific and the Sea of Cortez. During the excursions, they can be seen crossing the surface of the water, expelling high jets of water into the air, leaving anyone speechless.
Exclusive Accommodations
The most exclusive lodging brands have been landing, little by little, in Los Cabos until it has become Mexico's vacation jewel. If in the 40's, artists like John Wayne or Ernest Hemingway enjoyed its luxury and discretion, today celebrities like Jennifer Aniston, or Giselle Bündchen, enjoy their vacations in this Mexican paradise.
One of the must-visits is Las Ventanas al Paraíso, a magical place that exudes elegance and sophistication. If there really is a paradise, that's where its spa treatments, welcome margaritas and, of course, its unforgettable sunset views will transport you.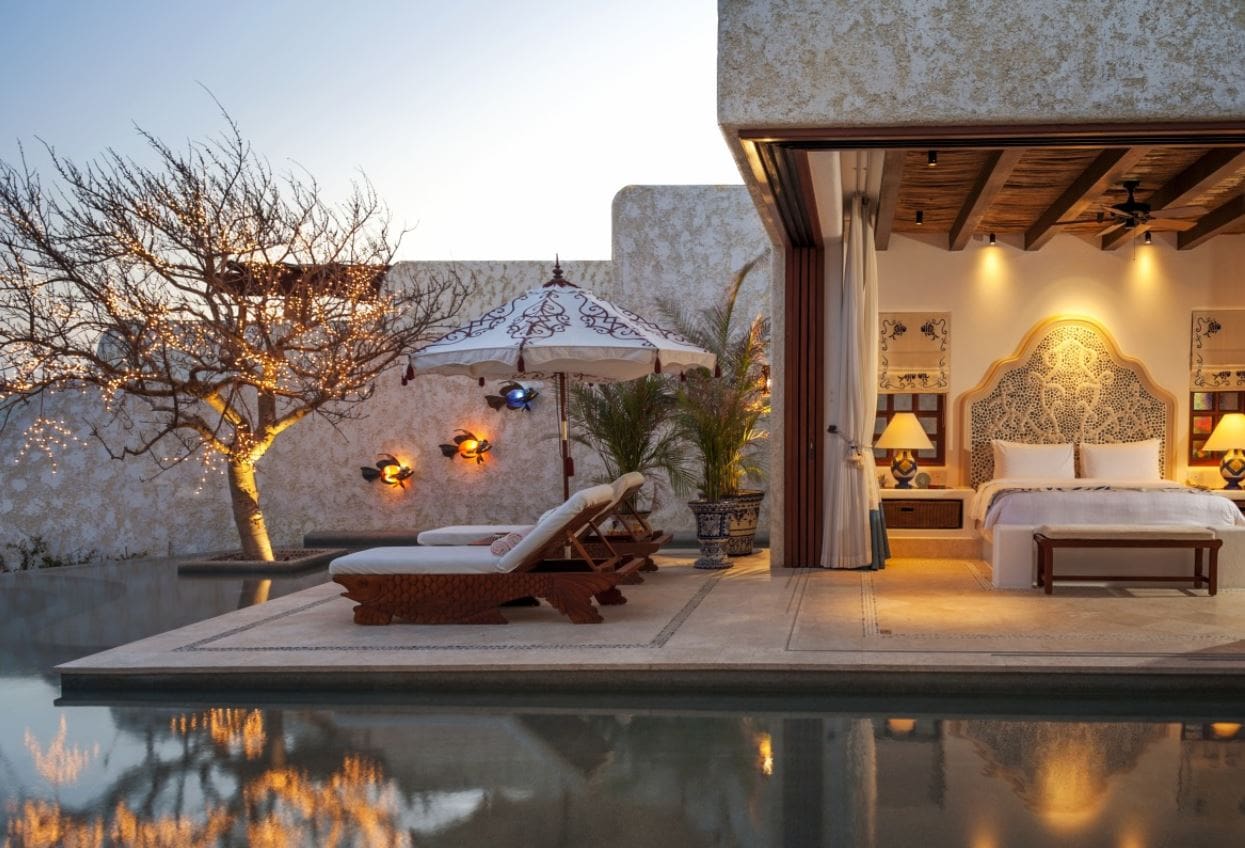 One&Only Palmilla was the first luxury hotel to open its doors in the area. It is said that on its opening night, John Travolta's 50th birthday was celebrated in one of its best private villas. A huge party for 280 friends (including Oprah Winfrey, Meg Ryan, Tom Cruise and Barbra Streisand) who flew in from Los Angeles.

The Cape, with a more casual but equally impeccable style, welcomes younger visitors and, above all, surf lovers, due to its location in front of the iconic Monumentos Beach, in the Sea of Cortez. All rooms have views of the famous Arco de Los Cabos.
El Ganzo, a magnificent Boutique Hotel that is strongly committed to culture and art. They have a professional recording studio and a lobby venue equipped with a sound system for the enjoyment of the musicians staying at the hotel.. Its walls, which were inaugurated in white, as a "canvas" have become works of art, after the passage of artists and great personalities, who are leaving their mark.

One of the most anticipated brands, Montage, has just opened its first hotel outside the United States. Montage Los Cabos represents the perfect fusion of beach, natural scenic beauty and the rich cultural heritage of Cabo San Lucas. In addition, Montage are masters of personalization, a delightful welcome gift!
Adrenaline rush
The combination of the sea and desert landscapes allows for endless outdoor experiences waiting to be discovered. We have already mentioned some of them, such as diving, snorkeling and whale watching, but you can't miss on the list other experiences such as surf the waves of the pacific ocean (we were lucky enough to have private lessons with some of the best teachers in the area!) marine safaris (some of these safaris include swimming with sharks or jumping mobulas)The area offers a wide range of activities, such as jet skiing, hiking, off-road tours, zip-lining and bungee jumping.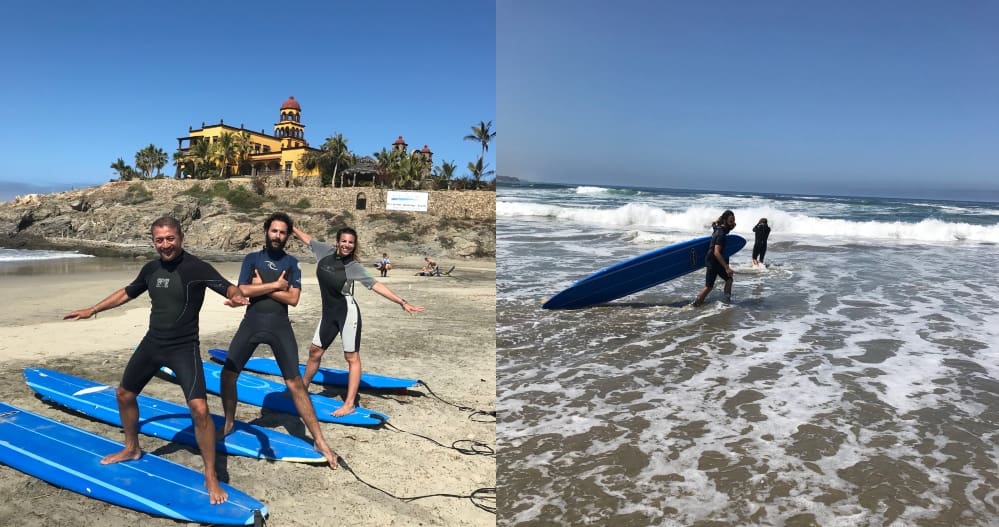 The best place is the one that satisfies all your emotions. Thank you Los Cabos for making us enjoy such an exciting destination! Unforgettable.