Antarctica, still considered "the ultimate challenge," is probably the most remote place on Earth, and one of the most fascinating – and least explored – destinations in existence.

With hardly any human intervention, its frozen landscapes offer breathtaking scenery to the few who get to know them, and it is here that a unique adventure awaits us: a trip to the end of the world inspired by space tourism, in which to immerse oneself in the immaculate "lunar landscape" of Antarctica.
Staying at one of its three exclusive camps -Whichaway, Wolf's Fang or Echo– composed of six futuristic and luxurious polar capsules, we will discover the southernmost frozen desert of our planet, while living unique experiences, such as enjoying a sauna overlooking the glacier, reaching one of the largest emperor penguin colonies in the world or tasting an exclusive cocktail prepared with 10,000-year-old ice.
Emperor Penguins and South Pole
Flying over the white desert of Antarctica in a private plane, to reach the home of the more than 28,000 emperor penguins that inhabit these lands, we will witness one of the largest and least seen wildlife events on our planet.
We will also have the privilege of accessing the colony at the beginning of the season, which will allow us to see the adorable chicks take their first steps away from the protective warmth of their parents for the first time. Welcome to a true spectacle of life!

Adrenaline lovers
Immense landscapes of untouched and inhospitable nature await to be discovered in the southernmost region of the Earth, with a collection of experiences only suitable for the most adventurous.
Thus, we can experience an exciting descent from the top of a cliff, more than 100 meters above sea level; ski surrounded by a white landscape of a thousand shades; or test our skills on a fatbikeThe 25-km long trip along the South Pole are just some of the adventures that await us.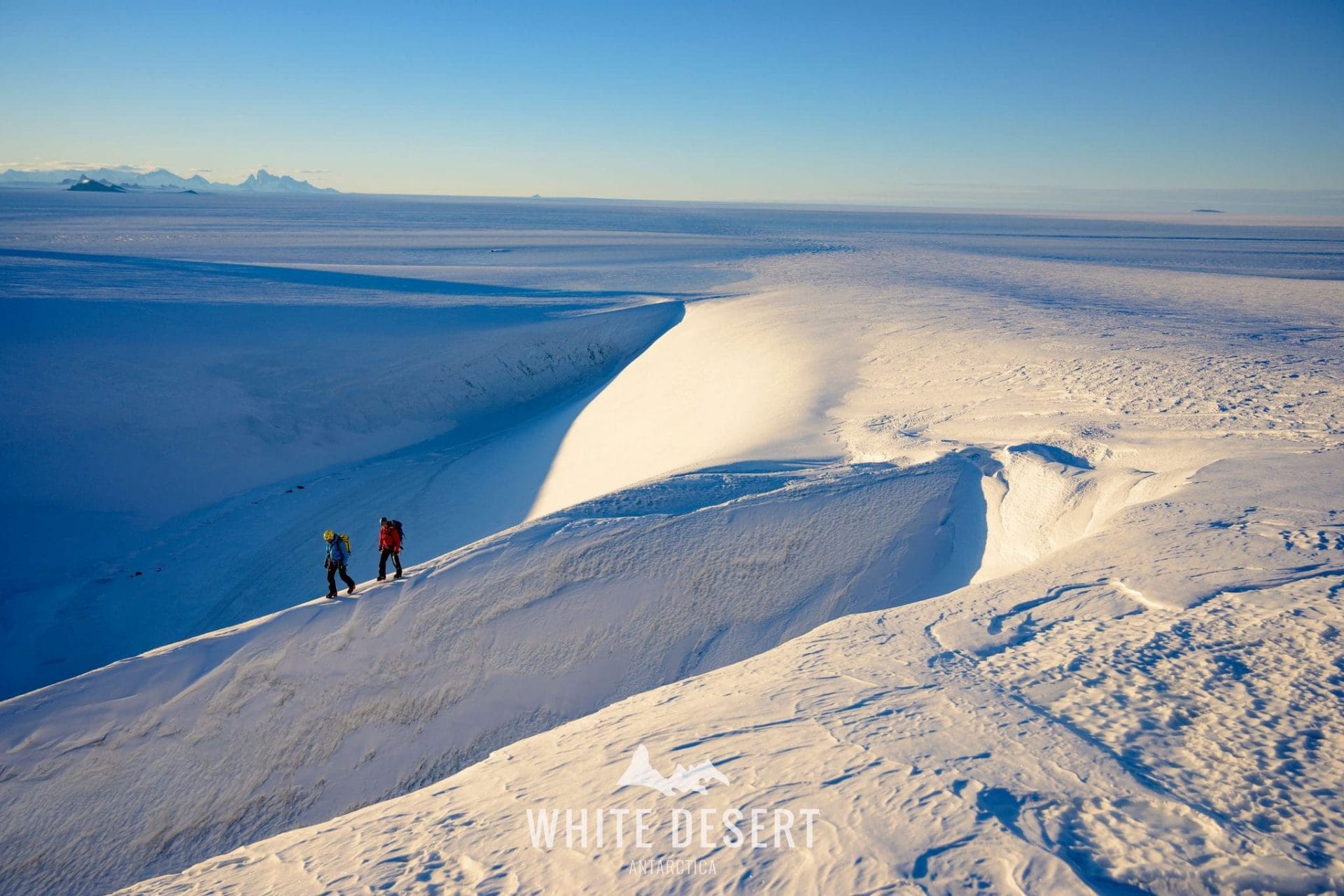 Safari in 4×4 on ice
Like an infinite and limitless road, the frozen desert of Antarctica presents itself before us, challenging us to discover even its most remote corners.
Aboard exclusive jeeps, specially prepared for the ice, we will cross the white continent, following in the footsteps of the explorer Roald Amundsen, the first to reach the South Pole. Only suitable for the most intrepid guests!
Picnic in the heights
Luxury and adventure go hand in hand in our exclusive camp. After a hike to the top of a steep peak, we will have an incomparable picnic lunch on the heights.
Enjoying the incredible 360º views of the southernmost region of the Earth and a cocktail made with 10,000-year-old glacial ice cubes will be the finishing touch to a unique experience available to very few.
If you want to travel privately to Antarctica, start designing your tailor-made trip with NUBA.